Spatoilet is a toilet seat with an under-shower. An elegant, beneficient and durable product. It might be strange at first, but after using it a few times, you do not want to go back.
Operating it is simple and is done with a remote control. When our technician installs the SPATOILET®, he takes time to explain operating it to you as clearly as possible.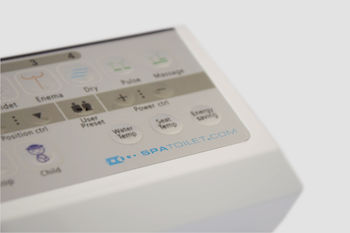 After "doing the business" on the toilet, you can now wash your bottom via the remote control with a pressurized water button and allow it to dry with the aid of the dryer. Of course, the SPATOILET® also has a function for cleaning the vaginal region and a feature for smaller children. In addition, it has functions for enema and massage. For a complete list of technical specifications and features, see below.
The remote control allows the SPATOILET® for another person (eg a family member or caregiver) to keep out of the toilet area while operating it, ensuring that privacy is respected as much as possible.

A tool that HELPS but moreover a tool for WELLNESS
The SPATOILET® is suitable for young and old and you will soon experience how beneficial it is to clean in this way. After three times, you are used to it, and you will not want to go back! Click this customer story page to get to know the many customer experiences of many satisfied users!
The SPATOILET® is also an excellent tool for the disabled or the elderly who might struggle turning backwards.